If you have read a bit about my bio, raw space weddings are my favorite. So much so, that I would say I am a raw space wedding planning specialist. 90% of our weddings are in bare bones raw spaces and honestly, I wouldn't have it any other way. With a raw space, you get to build the aesthetic from the ground up and customize everything from lighting, to tabletop, to chairs. While it can certainly seem daunting to couples and those planning events, it is a wonderful option that allows for flexibility to run wild with catering selections and decor. With the right planner by your side, planning a raw space wedding in NYC does not need to be intimidating. Below are a few of my favorite raw space wedding venues in NYC.
Photo by South Eleventh
"The Foundry is a 19th Century Building that has been meticulously restored to showcase its industrial character and stunning proportions. Adaptable for many uses and available to rent for weddings, corporate events, launch parties, bar and bat mitzvahs, film, video and photo shoots. The Foundry interior boasts 3,000+ square feet of raw space with a lush outdoor courtyard, rooftop terrace with views of the Manhattan skyline, indoor greenhouse and fully equipped industrial kitchen."

Photo by Laurie Rhodes Photography
99 Scott is an industrial style raw space venue that hosts creative platforms and events. With a variety of well lit spaces, 99 Scott is the perfect place to host a wedding large or small. Due to its bare bones industrial aesthetic, it is the perfect canvas for your wedding design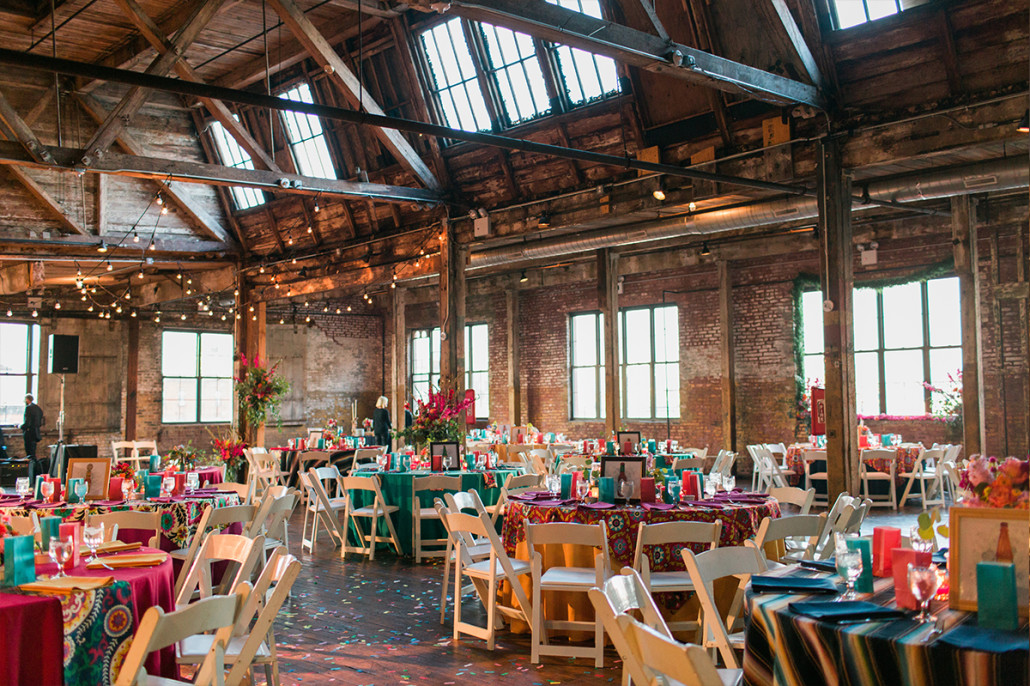 "The Greenpoint Loft is an exquisite multipurpose space/event hall, located in Greenpoint, Brooklyn. Originally a pre-WWII era warehouse the venue has been restored to its original raw appearance; exposed high beam ceilings, wooden floors, and open window skylights. 
The Greenpoint Loft facility includes the main loft space (5000 s.f.), mezzanine level (1000 s.f.) and a rooftop that boasts a magnificent view of the Manhattan skyline overlooking the East River.  The immense open floor allows for the most control over the design of your event. Ideal for art exhibitions, photo shoots, weddings or any other event that requires an extravagant blank space. The Greenpoint Loft gives off a timeless Brooklyn vibe from the moment you set foot in the door"
Photo by Nato Tuke
"This tranquil oasis in the heart of Manhattan is one of the most idyllic locations in New York City. Whether sipping cocktails as our sea lions glide gracefully through the water or strolling through the lush gardens taking in the architecture, your guests will be inspired by exotic wildlife and breathtaking city skyline views. The Central Park Zoo is a unique event space that is perfect for cocktail receptions and seated dinners. This open space has the flexibility to accommodate a variety of event plans and has a seasonal tent that included in the site fee with options to add on for larger guest counts."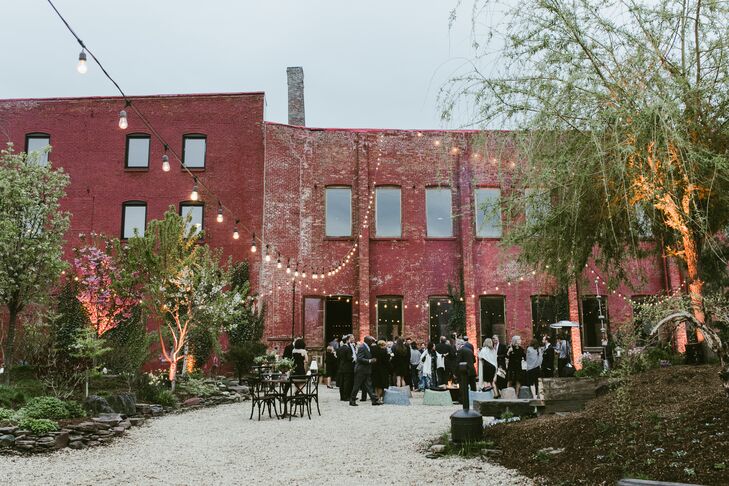 Photo from The Knot
"Pioneer Works offers unique, scalable spaces and a 20,000-square-foot garden that can accommodate a wide variety of events: from large-scale build outs, conferences and dinners, to film shoots, screenings and intimate receptions. Income generated by rentals goes directly back into supporting our programs, public events, artist residencies and classes—85% of which are free and open to the public."
"Featuring its original brick walls, towering wooden doors and high ceilings, this renovated former metal factory is a versatile space for an event. It seats around 250 people, and holds 375 for standing events. The space can be used for private events, weddings, Bar Mitzvahs, fashion shows, corporate events, and more. The renovations to this former metal factory highlight the building's industrial past, accentuating the original brick walls, large wooden doors and magnificent high ceiling with a skylight."
Need help planning a raw space wedding or event? Contact me today for more info.